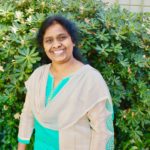 Carolyn Pappy Kuzhivila is a PhD student in the School of Intercultural Studies at the Fuller Theological Seminary, USA. Her research interests includes intersection of culture, religion and spirituality, technology and online sacred space, cross-cultural missions, and practical ministry.
Carolyn has experience in higher education both in administration and teaching. Having lived as an evangelist, educator, mentor, and preacher, she asserts that the single most significant thing in discerning God's call is to listen for His voice. As complex and dynamic as Carolyn's life has been since she committed to living for God, she maintains a simple truth for anyone seeking His call on their life: His voice is revealed in the Scripture, and the call is first and foremost between you and God.
Carolyn has significant experience in mission work in multi-religious and multi-cultural contexts. She has traveled extensively and was involved in training leaders and church planters, in addition to teaching in seminaries. In her teaching and volunteer work, she follows the example of her mother, who led women ministries, and served people with unconditional love; and her father, who is a retired professional, served as a deacon in church, and planted several churches.