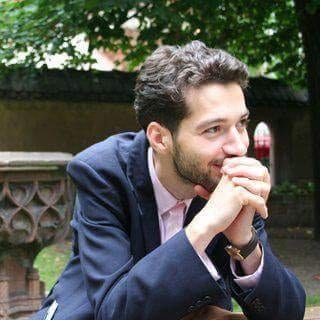 Originally trained as a theologian, Ionut specialises in Indian philosophy and currently has a keen interest in comparative metaphysics in the canon of Classical Greek and Indian philosophies.
He has become interested in the Oxford Interfaith Forum because he believes that the ground of encounter between people of faith is ontology, the way in which the faithful define 'being' and 'personhood'. As the Coordinator of the Philosophy in Interfaith Contexts Reading Group, his aim is to build bridges of intellectual and spiritual conversation among irreconcilable philosophical differences. He argues that a harmonious society is primarily based on the co-existence, not elimination, of paradoxes and contraries.
The current project he works on is a philosophy of difference. He teaches modules on Comparative Philosophy at Oxford Centre for Hindu Studies in Oxford, and Religious Studies at the University of Exeter. His research interests include: the category of differentia in Indian and Classical Greek philosophy (metaphysics), scholastic philosophy (Duns Scotus), Continental Philosophy (Deleuze, Heidegger), Existentialism (Albert Camus), Comparative Religion and Sanskrit philology.
His doctorate research led to the publication of Salvation in Indian Philosophy (Routledge 2019), which offers a comprehensive outline on the 'doctrine of salvation' (niḥśreyasa) in Vaiśeṣika system, and a succinct overview of comparable classical theories of salvation in other related Indian philosophical systems.
More recently he has developed, following the research of Wilhelm Halbfass (Indologist and philosopher), an innovative course of Comparative Philosophy which represents the very material of his next book project.
Selected Publications:
Salvation in Indian Philosophy. Perfection and Simplicity for Vaiśeṣika. 2019.Routledge Hindu Studies Series: https://www.brownsbfs.co.uk/Product/Moise-Ionut/Salvation-in-Indian-Philosophy–Perfection-and-Simplicity-for-Vaisesika/9780367420239
Vaiśeṣikasūtra. A Translation (with Ganesh U. Thite) 2021. Routledge Hindu Studies Series: https://www.routledge.com/Vaiseikasutra-A-Translation/Moise-Thite/p/book/9780367770822