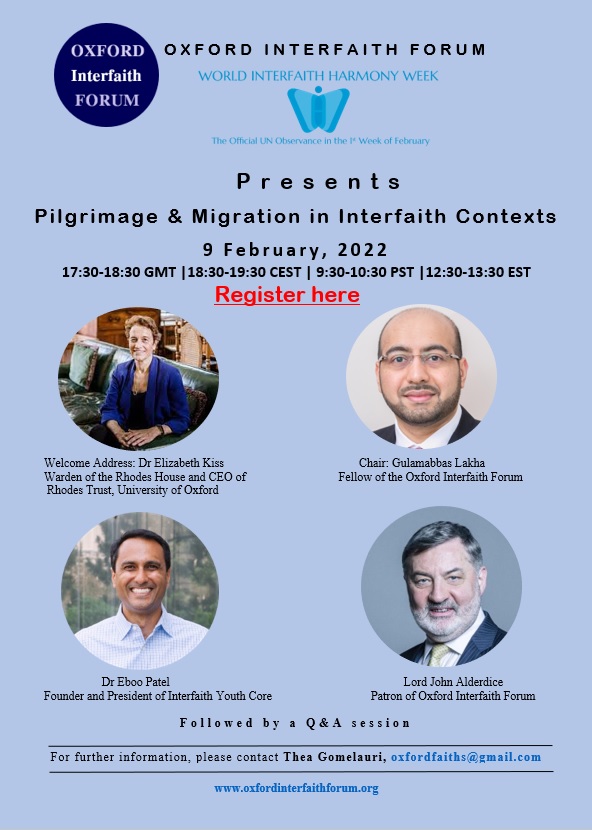 THE OXFORD INTERFAITH FORUM WELCOMES
DR EBOO PATEL
PRESIDENT OF INTERFAITH YOUTH CORE (IFYC)

We warmly invite you to the second session of the Oxford Interfaith Discussions on Pilgrimage in Interfaith Contexts. This fascinating topic reminds us of our shared experience of pilgrimage through life and serves as a guide for our daily interactions. This series will run from January to April 2022.

We are deeply honoured to welcome Dr Eboo Patel, distinguished interfaith leader and a former Rhodes Scholarship-holder.

Here are the details of the February session.
Topic: Pilgrimage and Migration in Interfaith Contexts

Welcome Address: Dr Elizabeth Kiss, Warden of the Rhodes House and CEO of Rhodes Trust, University of Oxford

Chair: Gulamabbas Lakha, Fellow of the Oxford Interfaith Forum

Panel Speakers:

Dr Eboo Patel, President and Founder of Interfaith Youth Core (IFYC), Chicago, USA 

Lord Alderdice, Harris Manchester College, University of Oxford, UK

Date: Wed, 9 February, 2022

Time: 17:30-18:30 GMT

Venue: Online

Please register here for this meeting:
https://us02web.zoom.us/meeting/register/tZAtceippj4tGt3TlRP3j3qu5houuIn5SWJ2