8 December
We are deeply honoured to welcome Dr Eboo Patel, the Founding President of Interfaith America.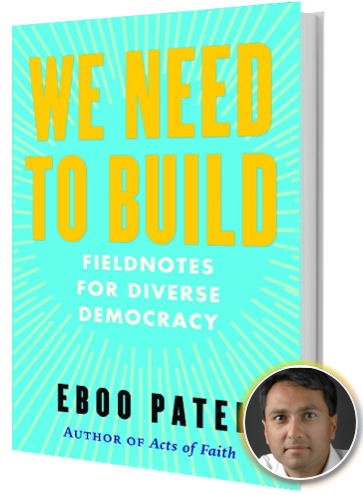 Here are more detials of this fascinating event.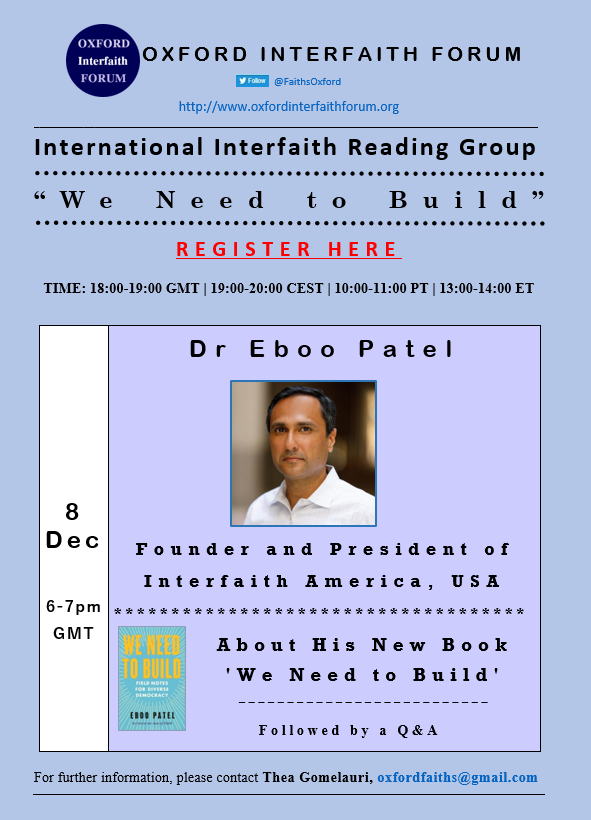 Topic: Interview with Dr Eboo Patel about his new book 'We Need to Build'.
Abstract: The goal of social change work is not a more ferocious revolution; it is a more beautiful social order. It is harder to organize a fair trial than it is to fire up a crowd, more challenging to build a good school than it is to tell others they are doing education all wrong. But every decent society requires fair trials and good schools, and that's just the beginning of the list of institutions and structures that need to be efficiently created and effectively run in large-scale diverse democracy. 'We Need to Build' is a call to create those institutions and a guide for how to run them well. In his youth, Dr Eboo Patel was inspired by love-based activists like John Lewis, Martin Luther King Jr., Badshah Khan, Mahatma Gandhi, Mother Teresa, Dorothy Day, Abraham Joshua Heschel, and Thich Nhat Hanh. Their example, and a timely challenge to build the change he wanted to see, led to a life engaged in the particulars of building, nourishing, and sustaining an institution that seeks to promote positive social change — Interfaith America. Now, drawing on his twenty years of experience, Patel tells the stories of what he's learned and how, in the process, he came to construct as much as critique and collaborate more than oppose. His challenge to us is clear: those of us committed to refounding America as a just and inclusive democracy need to defeat the things we don't like by building the things we do.
Dr Patel's new book We Need to Build is available to order from here.
Speaker: Dr Eboo Patel, Founder and President of Interfaith America, USA.
Speaker's bio: Named "one of America's best leaders" by U.S. News and World Report, Dr Eboo Patel is Founder and President of Interfaith America, the leading interfaith organization in the United States. Under his leadership, Interfaith America has worked with governments, universities, private companies, and civic organizations to make faith a bridge of cooperation rather than a barrier of division. Dr Patel served on President Obama's Inaugural Faith Council, and holds a doctorate in the sociology of religion from Oxford University, where he studied on a Rhodes scholarship.
Moderator: Frank Fredericks, World Faith, USA.
Time: 18:00-19:00 GMT | 19:00-20:00 CEST | 10:00-11:00 PT | 12:00-13:00 CT | 13:00-14:00 ET
Venue: Online

After registering, you will receive the Zoom email containing information about joining the meeting. If you do not see the zoom email in your inbox, please, check your spam folder.