9 March 2023
We are deeply honoured to welcome Dr Diana Matut, Oxford Centre for Hebrew and Jewish Studies at the University of Oxford, to lead a session of the ART in Interfaith Contexts Reading Group.
Here are the details of this fascinating session.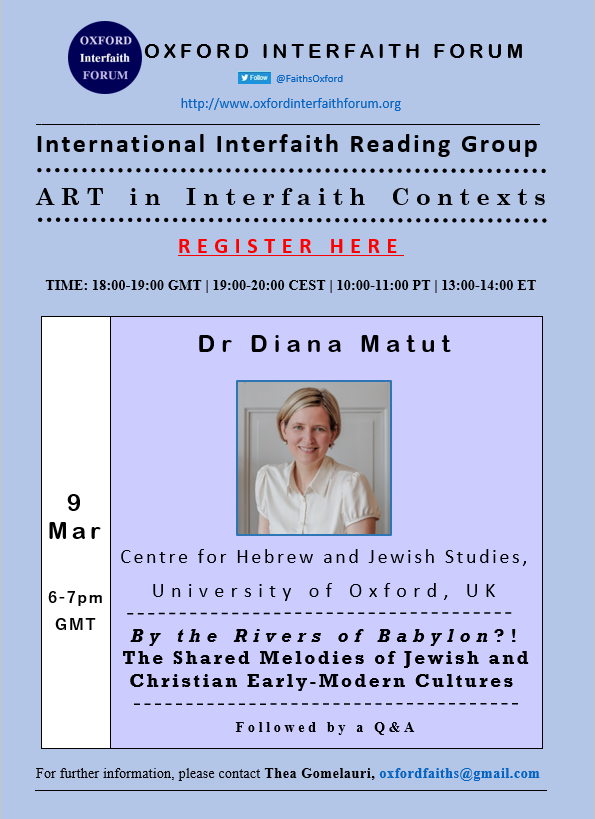 Topic: By the Rivers of Babylon?! The Shared Melodies of Jewish and Christian Early-Modern Cultures 
Abstract: During the early modern period Ashkenazim, Jews living in Central and Eastern Europe, brought forth a rich and multilayered song culture. Hundreds of songs were written on religious and secular themes. While many of the melodies used by song writers came from inner-Jewish traditions, many songs were contrafacta. This meant that their melodies had been used before for other well-known songs. This lecture wants to explore the shared melodies of the Jewish, Christian and secular world and take a closer look at how Jewish contrafacta were created and how Jewish and Christian authorities reacted to this practice. 
Speaker: Dr Diana Matut, The Oxford Centre for Hebrew and Jewish Studies. University of Oxford, UK
Chair:
Time: 18:00-19:00 GMT | 19:00-20:00 CEST | 11:00-12:00 PST | 14:00-15:00 EST
Venue: Online
After registering, you will receive a Zoom email containing information about joining the meeting. If you do not see the Zoom email in your inbox, please, check your spam/junk folder.
Related Sessions