9 March 2023
We are deeply honoured to welcome Dr Diana Matut, Coordinator of the ART in Interfaith Contexts Reading Group, to lead a session on The Shared Melodies of Jewish and Christian Early-Modern Cultures.
Here are the details of this fascinating session.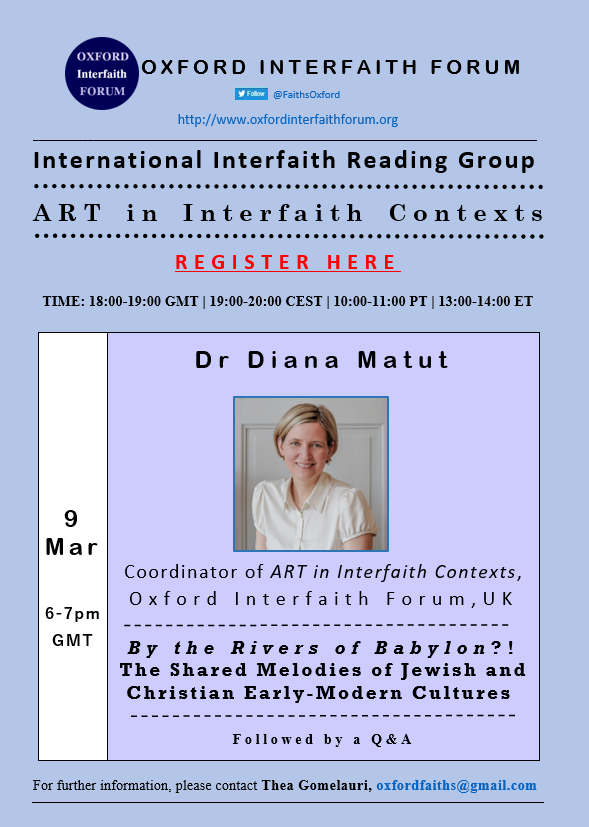 Topic: By the Rivers of Babylon?! The Shared Melodies of Jewish and Christian Early-Modern Cultures
Abstract: During the early modern period Ashkenazim, Jews living in Central and Eastern Europe, brought forth a rich and multilayered song culture. Hundreds of songs were written on religious and secular themes. While many of the melodies used by song writers came from inner-Jewish traditions, many songs were contrafacta. This meant that their melodies had been used before for other well-known songs. This lecture wants to explore the shared melodies of the Jewish, Christian and secular world and take a closer look at how Jewish contrafacta were created and how Jewish and Christian authorities reacted to this practice.
Speaker: Dr Diana Matut, Coordinator of ART in Interfaith Contexts, Oxford Interfaith Forum, UK.
Speaker's biography: Dr Diana Matut teaches Jewish Studies, Yiddish, and Jewish Music at the University Halle-Wittenberg (Germany), and the Oxford Centre for Hebrew and Jewish Studies (UK). In 1999, she earned her Diploma in Hebrew and Jewish Studies (Oxford), followed 2001 by the MA in Yiddish Studies (SOAS, London). The same year brought her to the Advanced Seminar for Yiddish Studies at the Jewish Theological Seminary in New York – taught exclusively in Yiddish.
She was the Joseph Kremen Memorial Fellow in East European Jewish Arts, Music, and Theatre at YIVO (New York) and Visiting Fellow at the Oxford Center for Hebrew and Jewish Studies (twice). From 2019 to 2020 Diana Matut was the convenor of the Oxford Seminar in Advanced Jewish Studies and led a research group focusing on "Jewish Musical Cultures in Europe, 1500-1750". In 2021 she was awarded the Mare-Balticum-Fellowship of the University of Rostock.
She has taught at universities in the UK, Israel, the USA, Canada, Italy and the Czech Republic as well as for several Jewish cultural festivals and centers such as Yiddish Summer Weimar, Klezkanada, Klezfest London and Maison de la Culture Yiddish Paris.
Chair: Professor Delvyn Case, Professor of Music at Wheaton College, USA, and Senior Fellow of the Oxford Interfaith Forum.
Time: 18:00-19:00 GMT | 19:00-20:00 CEST | 11:00-12:00 PST | 14:00-15:00 EST
Venue: Online
After registering, you will receive a Zoom email containing information about joining the meeting. If you do not see the Zoom email in your inbox, please, check your spam/junk folder.
Related Sessions
Recordings of Past Sessions