17 April, 2023
We are deeply honoured to welcome Dr Yasemin Gökpınar, Department of Oriental and Islamic Studies, Ruhr University Bochum, Germany, to lead a session of the ART in Interfaith Contexts Reading Group.
Here are the details of this fascinating session.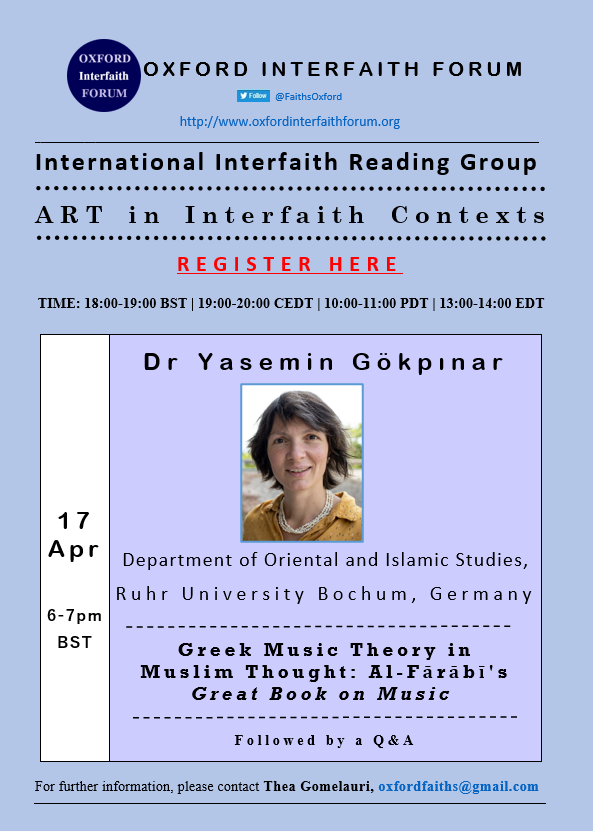 Topic: Greek Music Theory in Muslim Thought: Al-Fārābī's Great Book on Music
Abstract: The Muslim philosopher al-Fārābī (d. 950) was famous for his works on Aristotle as well as his great work on Music. His scientific approach of systematizing can be seen all over his al-Kitāb al-Mūsīqī al-kabīr (Great Book on Music), but since music is an art of twofold nature – theoretic and practical – and completely understood only, if its theory is proved by ear, al-Fārābī needs several different approaches to access this complicated material. We will look at some exemplary passages to identify his strategies and possibly his understanding of music.
Speaker: Dr Yasemin Gökpınar is an Arabist, Islamic scholar, and musicologist who received her PhD in Bochum in 2016 with a thesis on "Courtly Music Practice in Medieval Arab-Islamic Culture from the Abbasid Period to the Mamluks." Her research focuses on Arabic music theory and culture, Greek-Arabic translations, and manuscript culture. Dr Yasemin Gökpınar has been working at the Seminar for Oriental and Islamic Studies at Ruhr-Universität Bochum (RUB) since April 2018 and simultaneously is a researcher in the ERC project "Ancient Music Beyond Hellenisation" at the Academy of Sciences (ÖAW) in Vienna since October 2018. Currently, she is working on Arabic music theory and the adaptation of the Greek.
Chair: Dr Diana Matut, Fellow of the Oxford Interfaith Forum.
Time: 18:00-19:00 BST | 19:00-20:00 CEDT | 10:00-11:00 PDT | 13:00-14:00 EDT
Venue: Online
After registering, you will receive a Zoom email containing information about joining the meeting. If you do not see the Zoom email in your inbox, please, check your spam/junk folder.
Related Sessions
Recordings of Past Sessions