9 January, 2023
We are deeply honoured to welcome Revd Canon Dr Joanna Collicutt to lead a session of the ART in Interfaith Contexts Reading Group.
Here are the details of this fascinating session.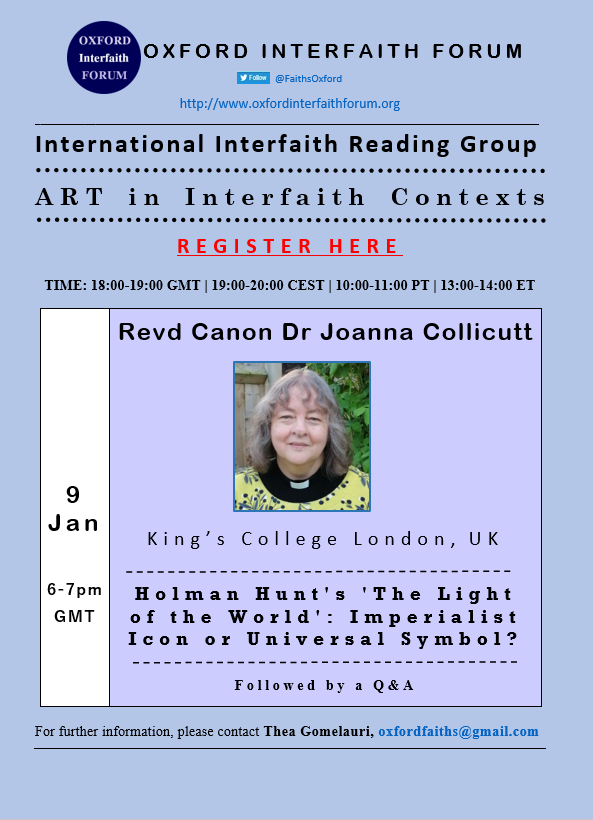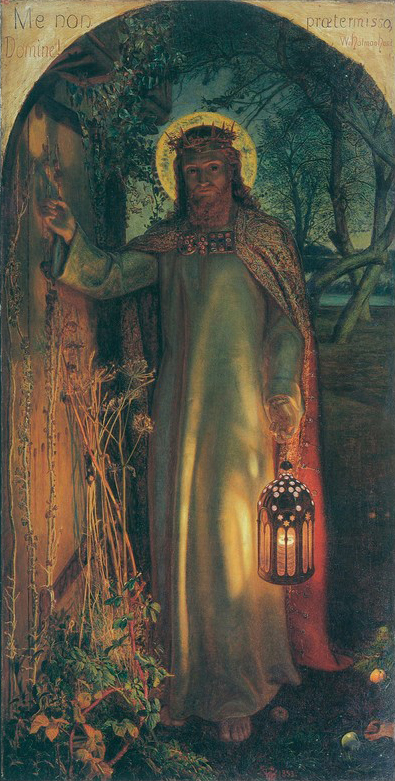 Holman Hunt's 'The Light of the World': Imperialist Icon or Universal Symbol?
Abstract: The evangelical Christian Pre-Raphaelite artist William Holman Hunt OM completed 'The Light of the World' in 1854 but it had a long afterlife in several different versions, reproductions in ordinary homes in Britain and across the British Empire, and a world tour of a later version in 1905-7. This presentation will explore the role of Hunt's 'conversion experience' in the production of the original work, his complex relationship with Judaism in the quest to recover the historical roots of Jesus of Nazareth, and the likelihood of a move from an exclusivist to universalist position in the latter part of his life, whose seeds may be evident in the painting's composition. The role of nature as universal symbol and the relationship between Hunt's religious painting and Victorian attitudes to church, state, empire, and the otherness of the 'orient' will also be considered.
Speaker: Revd Canon Dr Joanna Collicutt, King's College London, UK.
Speaker's biography: Revd Canon Dr Joanna Collicutt is a member of the Faculty of Theology and Religion at the University of Oxford, an associate lecturer at Ripon College Cuddesdon, and an associate priest in an Oxfordshire parish.
She studied experimental psychology and (later) theology at Oxford University, and clinical psychology and (later) Christianity and the Arts at King's College, London (where she is still pursuing doctoral studies). After many years working in the National Health Service as a clinical neuropsychologist, Joanna moved into the field of psychology of religion as director of the MA programme in psychology of religion at Heythrop College, University of London. From 2010-2020 she was Karl Jaspers Lecturer in psychology and spirituality at Ripon College Cuddesdon and Oxford Diocesan Older People's Adviser. She is Chartered Psychologist and Fellow of the British Psychological Society, and a Canon of Christ Church Cathedral.
Joanna is the author of many academic papers, and recent books include The psychology of Christian character formation (SCM, 2015), Being mindful being Christian (Monarch, 2016), Thinking of you: A theological and practical resource for the spiritual care of people with dementia (BRF, 2017), When you pray (BRF, 2019), Seriously messy (BRF, 2019), Neurology and religion (CUP, 2019), So longeth my soul: A Christian spirituality reader. (SCM forthcoming).
Chair: Professor Ori Soltes, Center for Jewish Civilization, Georgetown University, USA
Time: 18:00-19:00 GMT | 19:00-20:00 CEST | 10:00-11:00 PT | 13:00-14:00 ET
Venue: Online
After registering, you will receive a Zoom email containing information about joining the meeting. If you do not see the Zoom email in your inbox, please, check your spam folder.
Related Sessions