7 December, 2022
We are delighted to welcome Revd Dr Adam Carlill, Vicar of Tilehurst St George & St Mary Magdalen, UK, to lead a session of the ART in Interfaith Contexts Reading Group.
Here are the details of this fascinating session.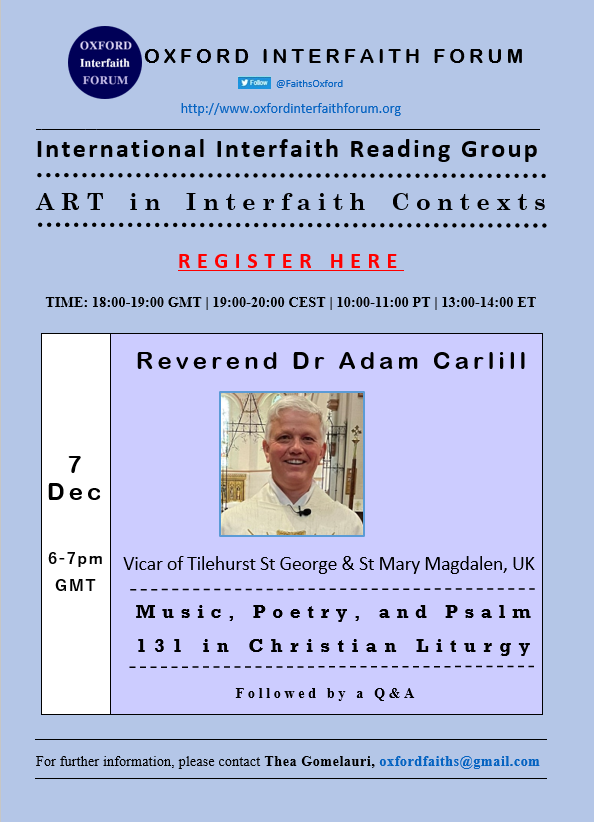 Topic: Music, Poetry, and Psalm 131 in Christian Liturgy
Abstract: There are three parts to my presentation.
1. A close look at verse 2 which I think suggests a female voice in the psalm that has been largely ignored or suppressed.
2. A look at some metrical translations into English to see how different aspects of the psalm have been drawn out.
3. Then I'm going to play some tracks, musical versions of Psalm 131 that struck me as particularly interesting, and which illustrate the breadth of interpretation.
Speaker: Revd Dr Adam Carlill, Vicar of Tilehurst St George & St Mary Magdalen, UK.
Revd Dr Carlill was born in Clacton-on-Sea and was baptized in the local Methodist Church, where he went to Sunday School. He was taken to Evensong at the local Anglican Church from an early age and joined the church choir when he was 8 years old, forsaking Sunday School in order to sing Matins from the Book of Common Prayer. After leaving school, he took his BA in Theology at Keble College, Oxford, before spending a year as the Dean's volunteer in St. George's Cathedral, Jerusalem. He trained for Anglican ministry at Lincoln Theological College and has been in full-time parish ministry continuously since 1990. He has been the Vicar of St. George's Tilehurst since 1998, becoming additionally the Vicar of the neighbouring parish of St Mary Magdalen's.
In 2013 he received his DPhil in Old Testament Theology at St. Peter's College, Oxford with his thesis Cherubim and Seraphim in the Old Testament, subsequently becoming a member of the Society for Old Testament Study. Frustrated at not being able to use the psalms in worship more widely, in 2015 Adam decided to do something about it, systematically working through the Hebrew Psalter, translating each psalm into modern metrical English and publishing them in 2018: Psalms for the Common Era: Modern Metrical Psalms for Individuals, Choirs and Congregations. Adam is a member of the Hymn Society of Great Britain and Ireland and serves on the executive committee.
Chair: Professor Delvyn Case, Professor of Music at Wheaton College, USA, and Senior Fellow of the Oxford Interfaith Forum.
Date: 7 December, 2022
Time: 18:00-19:00 GMT | 19:00-20:00 CET | 10:00-11:00 PST | 13:00-14:00 EST
Venue: Online
After registering, you will receive email from ZOOM containing information about joining the meeting. If you do not see a Zoom email in your inbox, please check you spam folder.
If you would like to join the ART in Interfaith Contexts Reading Group, please sign up here.
Related Sessions
Recordings of Past Events