15 June, 2023
We are deeply honoured to welcome Professor Matthew Milliner, Senior Fellow of the Oxford Interfaith Forum, and Professor of Art History at Wheaton College, USA, to lead a session of the ART in Interfaith Contexts Reading Group.
Here are the details of this fascinating event.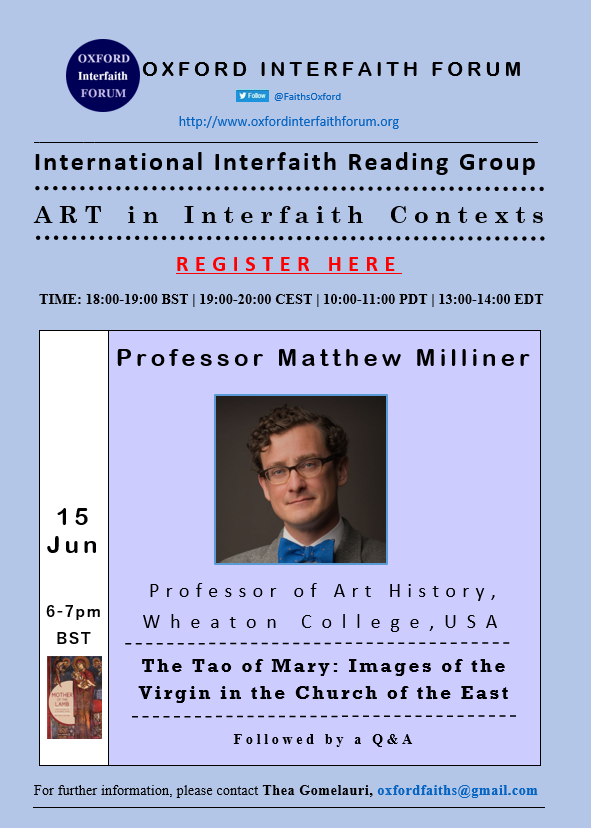 Topic: The Tao of Mary: Images of the Virgin in the Church of the East
Abstract: The Jesus Sutras are an extraordinary series of documents that have yet to be fully considered by those who explore the terrain between Buddhism, Taoism, and Christianity. Written in China's Tang Dynasty by Church of the East Christians who transposed the Gospel into a Taoist and Buddhist key, these documents make much of the Virgin Mary, even while the Christians who wrote them officially demurred from the doctrine of Mary as "Theotokos" (Mother of God), defined at the Council of Ephesus in 431CE. Departing from the way the Jesus Sutras have affected my classroom at a Christian college, this talk looks specifically at visual evidence for Marian devotion by the community that wrote the Jesus Sutras, and describes my experience worshipping with Church of the East Christians, many of whom reside in the Chicago area today.
Speaker: Professor Matthew Milliner is Senior Fellow of the Oxford Interfaith Forum, UK, and Professor of Art History at Wheaton College, USA. He holds an M.A. & Ph.D. in art history from Princeton University, and an M.Div from Princeton Theological Seminary. He is a six-time appointee to the Curatorial Advisory Board of the United States Senate, and has written for publications ranging from The New York Times to First Things. He was awarded a Commonwealth fellowship at the Institute for Advanced Studies in Culture at the University of Virginia, and is author most recently of The Everlasting People: G.K. Chesterton and the First Nations (InterVarsity Press, 2021), and Mother of the Lamb: The Story of a Global Icon (Fortress Press, 2022).
Chair: Professor Susan Ashbrook Harvey, Willard Prescott and Annie McClelland Smith Professor of History and Religion, Brown University, USA.
Date: 15 June, 2023
Time: 18:00-19:00 BST | 19:00-20:00 CEST | 10:00-11:00 PDT | 13:00-14:00 EDT
Venue: Online
After registering, you will receive a Zoom email containing information about joining the meeting. If you do not see the zoom email in your inbox, please, check your spam folder.
Related Sessions
Recordings of Past Sessions