13 February, 2023

We are deeply honoured to welcome Jeremy Ingpen, Institute for Orthodox Christian Studies, University of Cambridge, UK, to lead a session of the International Interfaith Reading Group on Eastern Christianity in Interfaith Contexts. This event is part of the World Interfaith Harmony Week.
Here are the details of this fascinating session.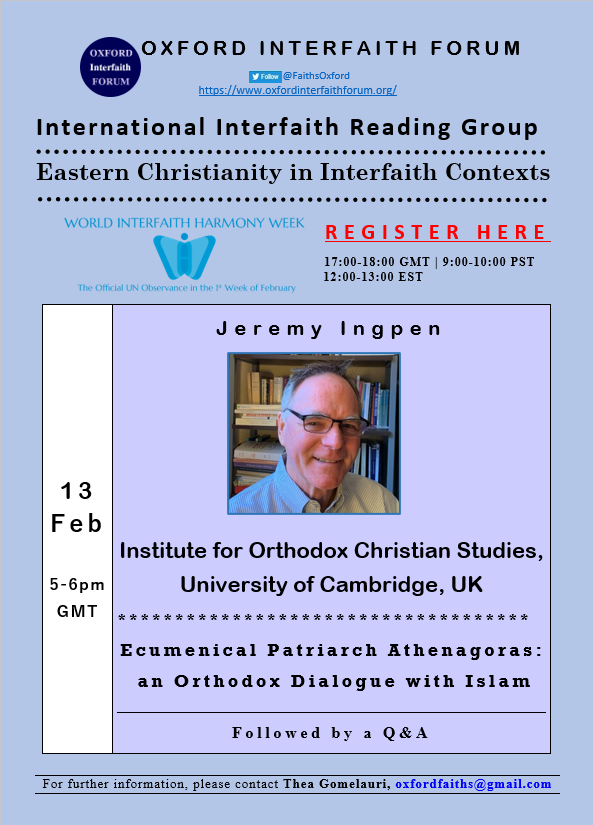 Topic: Ecumenical Patriarch Athenagoras: an Orthodox Dialogue with Islam
Abstract: The recent publication of the English translation of Olivier Clément's Dialogues with Patriarch Athenagoras (Holy Cross Orthodox Press, 2022) brings one of Clément's major works to the English-language reader. In his Foreword, Archbishop Elpidophoros, Greek Archdiocese of America, describes the book as "the key that unlocks the treasure chest of Orthodox Christianity…" The Dialogues take you into the heart of the Church's relationship with the world, to the heart of what it means to be a Christian in today's world.
In 1968, Athenagoras, Patriarch of Constantinople, invited the French Orthodox theologian, Olivier Clément, to Istanbul, to explain the student uprisings and social turmoil of May 1968. Clément spent several weeks at the patriarch's side, in constant conversation. He wrote the Dialogues with Patriarch Athenagoras on his return to France. (Dialogues avec le Patriarche Athénagoras, Paris, Fayard, 1969, 2nd Edition, 1975)
This session focuses on one aspect of their dialogue, the interaction of Christianity with Islam. Athenagoras proposes that Islam is "a rebirth of the faith of the forefathers and patriarchs." In his book of dialogue with Islam, Un Respect Têtu (1989), Clément writes: "The message of Mohammed is a challenge to a Christianity that is established, divided and closed off. Against Christianity's claims to have captured … and to monopolise grace … Islam summons us to the mysterium tremendum of the Inaccessible One, the imminence of the judgment, the eschatological nature of the feast to which we are invited."
We will hear four passages from Dialogues with Patriarch Athenagoras that take us from the Patriarch's childhood village in Northern Greece, to his early years as an archdeacon in Monastir, Macedonia, and then into his dialogues with Clément. We then hear from Clément himself as he contemplates the empty spaces of Hagia Sophia.
Speaker: Jeremy Ingpen, Institute for Orthodox Christian Studies, University of Cambridge, UK.
Speaker's biography: After a career in management consulting and affordable housing, Jeremy N. Ingpen (BA, Oxford, Modern History; MA, Reading, European Studies) started translating the work of French Orthodox theologian Olivier Clément in 2013. His translations include: Clément's Transfiguring Time, 2019, Michel Evdokimov's Two Martyrs in a Godless World, 2021, and Clément's Dialogues with Patriarch Athenagoras, 2022. He is pursuing a post-career doctorate on the life work of Olivier Clément, with the working title The Face is the Prophecy of the Kingdom: an introduction to the work of Olivier Clément.
Chair: Professor Sebastian Brock FBA, University of Oxford, UK
Date: 13 February, 2023
Time: 17:00-18:00 GMT | 9:00-10:00 PST | 12:00-13:00 EST
Venue: online
After registering, you will receive a Zoom email containing information about joining the meeting. If you do not see the Zoom email in your inbox, please, check your spam folder.
If you would like to join the Eastern Christianity in Interfaith Contexts Reading Group, please sign up here.
Related Sessions
Recordings of Past Sessions