1 May, 2023
We are deeply honoured to welcome Professor Robin Darling Young, Associate Professor of Church History at Catholic University of America, USA, to lead a session of the International Interfaith Reading Group on Eastern Christianity in Interfaith Contexts.
Here are the details of this fascinating session.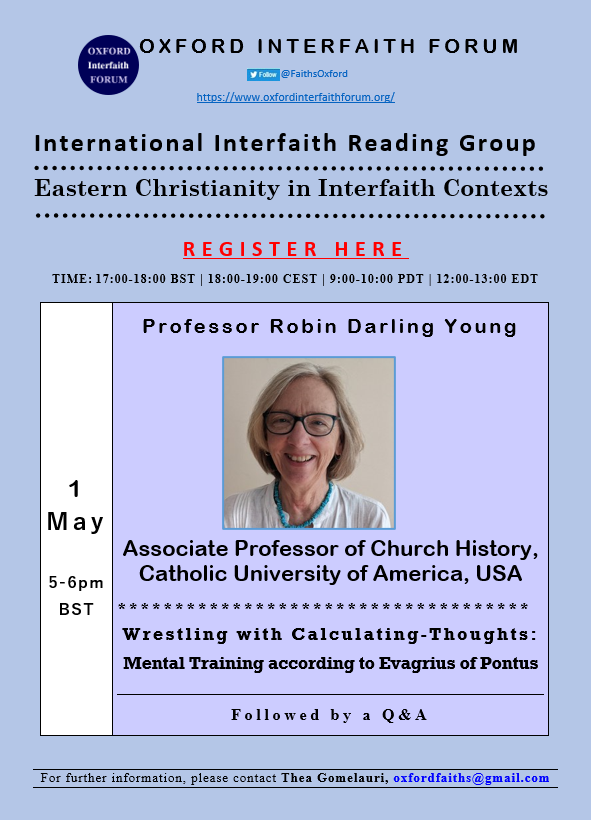 Title: Wrestling with Calculating-Thoughts: Mental Training according to Evagrius of Pontus
Abstract: Evagrius of Pontus (d. 399) is well known for his speculative interpretation of Christian philosophy, particularly in the Gnostic Trilogy. His instructions to praktikoi, those beginning monastic practice, is the most familiar of his works, and has been translated numerous times. Yet Evagrius' careful diagnosis of mental functioning and prescriptive cures, under the discipline of attention and observation (prosochē, theōria), needs careful exploration — particularly since it overlaps with the work of the earlier Neoplatonist philosopher hostile to Christians, Porphyry of Tyre. I will provide several sections of Evagrius' Peri Logismōn, which I translate On Calculating Thoughts, in order to consider Evagrius' understanding, and his remedies. It should be noted that, as a student of Origen and Clement, Evagrius did not distinguish between male and female capacities at the level of observation and prayer.
Speaker: Professor Robin Darling Young, Associate Professor of Church History at Catholic University of America, USA.
Speaker's biography: Robin Darling Young (BA, Mary Washington College; MA, PhD, University of Chicago) is Associate Professor of Spirituality. She has published and lectured widely on topics in the history of early Christianity and its thought, including the areas of scriptural interpretation, the history of asceticism and monastic thought, and the Christian cultures of ancient Syria and Armenia.
Professor Darling Young is currently preparing an annotated translation of the Letters of Evagrius of Pontus from the surviving Syriac translation for the Fathers of the Church series (CUA Press), and directing a translation team that will produce English translations from the Greek texts and Syriac translations of the same author's Gnostic Trilogy (Praktikos, Gnostikos, Kephalaia Gnostika) for Oxford University Press.
Chair: Professor Sebastian Brock FBA, University of Oxford, UK
Date: 1 May, 2023
Time: 17:00-18:00 BST | 9:00-10:00 PDT | 12:00-13:00 EDT
Venue: online
After registering, you will receive a Zoom email containing information about joining the meeting. If you do not see the Zoom email in your inbox, please, check your spam folder.
If you would like to join the Eastern Christianity in Interfaith Contexts Reading Group, please sign up here.
Related Sessions
Recordings of Past Sessions