31 August
We are honored to welcome Dr Elizabeth Phillips, Woolf Institute, to lead a session of the International Interfaith Reading Group on Eschatology in Interfaith Contexts.
Here are the details of this fascinating event.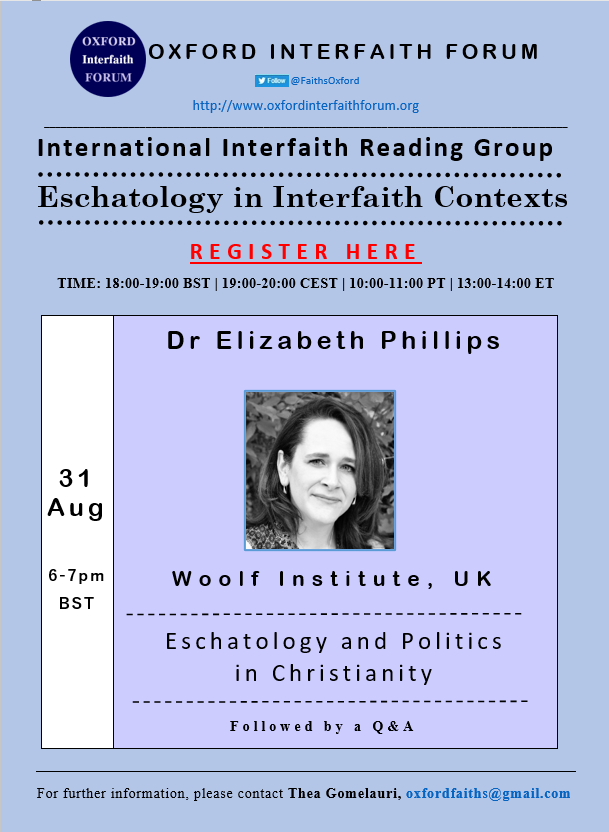 Topic: Eschatology and Politics in Christianity
Speaker: Dr Elizabeth Phillips, Woolf Institute, UK.
Dr Elizabeth Phillips is the Public Engagement Fellow for the Woolf Institute, an interfaith research centre affiliated with the University of Cambridge, and teaches in the Cambridge Theological Federation. She is a specialist in Christian political theology and moral theology. Her previous roles include Lecturer in Christian Ethics and Director of Studies at Westcott House, Research Fellow at the Margaret Beaufort Institute of Theology, and Visiting Scholar with the University of Cambridge's Institute for Criminology. From 2016-2019 she co-convened and ethnographically researched a course on 'The Good Life and the Good Society' inside a high security prison. Her PhD from the University of Cambridge was an ethnographic study of Christian Zionism in an American congregation which explored the relationship between eschatology and politics. She is also trained in interpersonal mediation and teaches conflict transformation. She is the author of Political Theology: A Guide for the Perplexed (Continuum, 2012), and co-editor of the T&T Clark Reader in Political Theology (T&T Clark, 2021), and The Cambridge Companion to Christian Political Theology (Cambridge University Press, 2015).
Chair: Professor Emmanouela Grypeou, Stockholm University, Sweden.
Date: 31 August, 2022
Time: 18:00-19:00 BST | 19:00-20:00 CEST | 10:00-11:00 PT | 12:00-13:00 CT | 13:00-14:00 ET
Venue: Online
After registering, you will receive a Zoom email containing information about joining the meeting.
If you do not see the Zoom email in your inbox, please, check your SPAM or JUNK folder.
If you would like to join the Eschatology in Interfaith Contexts Reading Group, please sign up here.
If you missed this session, a recording is available below:
Related Sessions