18 July, 2023
We are deeply honoured to welcome Professor Lesley Smith, Professor of Medieval Intellectual History, Fellow and Senior Tutor at the Harris Manchester College, University of Oxford, UK, to lead a session of the International Interfaith Reading Group on Manuscripts in Interfaith Contexts.
Here are the details of this fascinating session.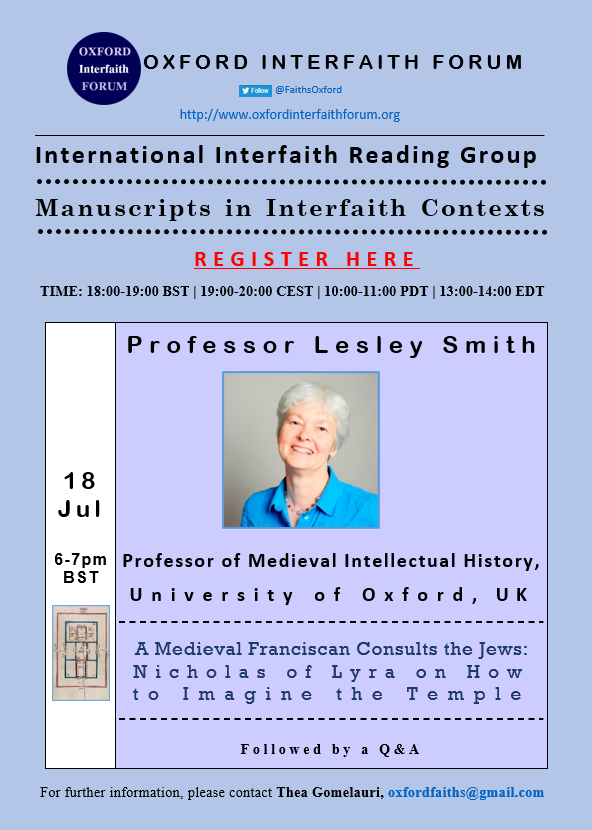 Topic: A Medieval Franciscan Consults the Jews: Nicholas of Lyra on how to Imagine the Temple
Abstract: Nicholas of Lyra (d. 1349) was the most important Christian biblical commentator of his generation. His massive Postilla on the whole Bible circulated in hundreds of copies throughout Europe. Focussed squarely on the literal meaning of the text, Nicholas was said to be Martin Luther's favourite exegete. What makes him extraordinary is his use of Jewish commentary in understanding the text. He learnt Hebrew, and he employed Rashi as the basis for much of his exposition. He even produced comparative drawings, to help his readers see what he meant…
Speaker: Lesley Smith is Professor of Medieval Intellectual History at the University of Oxford. She is the author of many books, including The Ten Commandments: interpreting the Bible in the medieval world (Leiden & Boston, 2014) and Fragments of a World: William of Auvergne and his medieval life (Chicago, 2023).
Speaker's Biography: Professor Lesley Smith works on the medieval Bible, as both a physical and intellectual object. This ranges from close technical work with manuscripts of Bibles, biblical commentary, theology and pastoralia, to the exposition of commentary and theology, to investigation of the intellectual milieu of the schools in which the Bible was studied – the people and the products of this early university system, from the twelfth century onwards. In particular, Professor Lesley Smith explores the two-way link between the manuscript evidence and the intellectual evidence of these early schools – in modern terms, how technology affects what we learn and know, and vice versa. The study of the Bible has also led them to contribute to the study of medieval Jewish-Christian scholarship and relations.
Chair: Professor James McGrath, Senior Fellow of the Oxford Interfaith Forum, and Clarence L. Goodwin Chair in New Testament Language and Literature at the Department of Philosophy and Religious Studies at Butler University, USA.
Date: 18 July, 2023
Time: 18:00-19:00 BST | 19:00-20:00 CEST | 10:00-11:00 PDT | 13:00-14:00 EDT
Venue: online
After registering, you will receive a Zoom email containing information about joining the meeting. If you do not see the zoom email in your inbox, please, check your spam folder.
If you would like to join the International Interfaith Reading Group on Manuscripts in Interfaith Contexts please, register HERE.
Related Sessions
Recordings of Past Sessions