27 October
We are deeply honoured to welcome Professor Gary Rendsburg, Distinguished Professor of Jewish Studies, and Blanche and Irving Laurie Chair in Jewish History at Rutgers University, and Patron of the Oxford Interfaith Forum, to inaugurate the International Interfaith Reading Group on Manuscripts in Interfaith Contexts.
Here are the details of this fascinating session.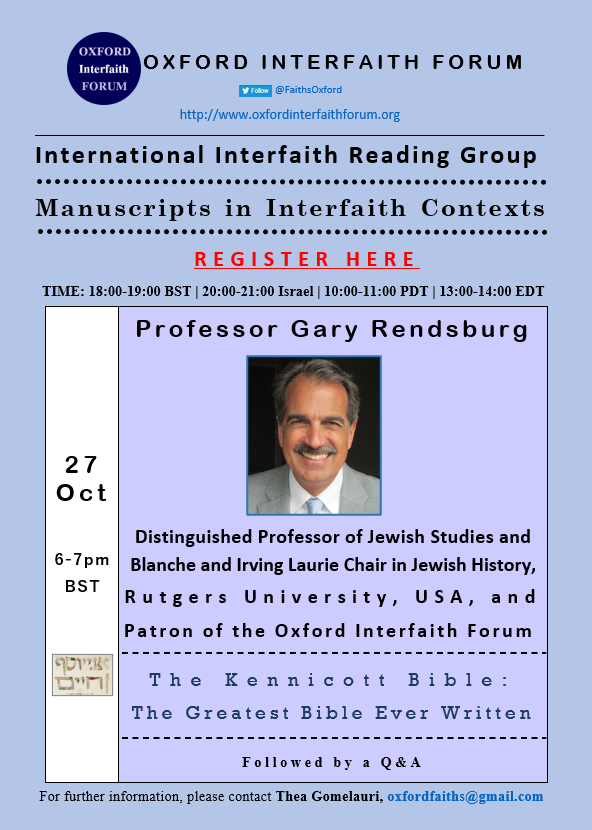 Topic: The Kennicott Bible: The Greatest Bible Ever Written
Abstract: The Kennicott Bible is the crown jewel of all medieval Hebrew manuscripts, expertly written by a skillful scribe and beautifully illuminated by an ingenious artist. What makes the manuscript even more remarkable is the fact that it was written in 1476, just 16 years prior to the expulsion of the Jews from Spain in 1492, in the wake of the Alhambra Decree of Ferdinand and Isabella. In addition, printing (movable type) had just been invented, and in fact Hebrew font was created just a few years earlier, sometime between 1470 and 1475, in northern Italy (though such technology had not yet reached Spain). Professor Rendsburg will present the Kennicott Bible in all its vivid and luxurious detail, including its layout, format, biblical text, and beautiful illuminations – all the while paying attention to the Islamic and Christian influence visible in this precious document.
Speaker: Professor Gary A. Rendsburg serves as the Blanche and Irving Laurie Professor of Jewish History in the Department of Jewish Studies at Rutgers University, USA. His Ph.D. and M.A. are from N.Y.U.
Professor Rendsburg is Patron of the Oxford Interfaith Forum. He is the author of seven books and over 200 articles; his most recent book is How the Bible Is Written (2019).
Date: 27 October, 2022
Time: 18:00-19:00 BST | 20:00-21:00 Israel time | 10:00-11:00 PDT | 13:00-14:00 EDT
Venue: Online
After registering, you will receive a zoom email containing information about joining the meeting. If you do not see the zoom email in your inbox, please, check your spam folder.
If you would like to join the International Interfaith Reading Group on Manuscripts in Interfaith Contexts please register HERE.
Related Sessions
Recordings of Past Sessions