3 April, 2023
We are deeply honoured to welcome Professor Gary Rendsburg, Distinguished Professor of Jewish Studies, and Blanche and Irving Laurie Chair in Jewish History at Rutgers University, and Patron of the Oxford Interfaith Forum, to lead a session of the International Interfaith Reading Group on Manuscripts in Interfaith Contexts.
Here are the details of this fascinating session.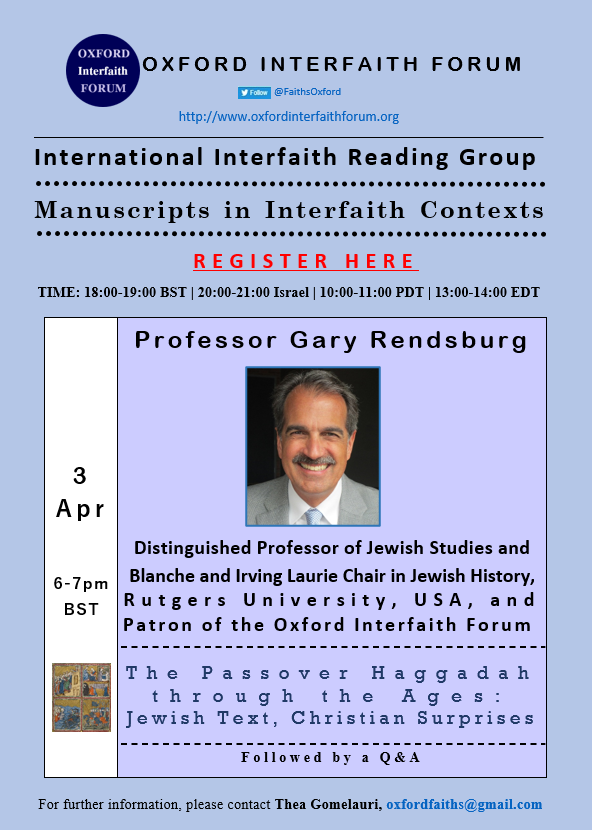 Topic: The Passover Haggadah through the Ages: Jewish Text, Christian Surprises
Abstract: Today Jews read the Passover Haggadah from a printed book, with each person at the table holding his or her own copy. But how did that text reach us? And how did Jews observe the Seder before the age of printing?
This talk presents the evidence: from the most basic Haggadah texts found in the Cairo Genizah through the most lavishly produced illuminated Haggadah manuscripts from the Middle Ages.
Along the way, as we shall see, certain Christian influences are present: both in the artwork of the illuminated haggadot and perhaps most surprisingly of all in the so-called Monk's Haggadah, replete with Latin commentary, housed for centuries at the Benedictine Monastery in Tegernsee, Bavaria.
Through it all, presented via PowerPoint, we will marvel at the work of dedicated scribes, who transmitted the text generation after generation, century after century – while also acknowledging the ongoing work of curators and librarians who serve as the custodians of these treasures, in London, Manchester, New York, Jerusalem, Munich, and Washington.
Speaker: Professor Gary A. Rendsburg serves as the Blanche and Irving Laurie Professor of Jewish History in the Department of Jewish Studies at Rutgers University, USA, and he is the Patron of the Oxford Interfaith Forum. Professor Rendsburg is the author of seven books and over 200 articles; his most recent book is How the Bible Is Written (2019).
Chair: Professor Anna Sapir Abulafia FBA, Emeritus Professor of the Study of the Abrahamic Religions at the University of Oxford, and Fellow of British Academy, UK.
Date: 3 April, 2023
Time: 18:00-19:00 BST | 20:00-21:00 Israel time | 10:00-11:00 PDT | 13:00-14:00 EDT
Venue: Online
After registering, you will receive a zoom email containing information about joining the meeting. If you do not see the zoom email in your inbox, please, check your spam Folder.
If you would like to join the International Interfaith Reading Group on Manuscripts in Interfaith Contexts please register HERE.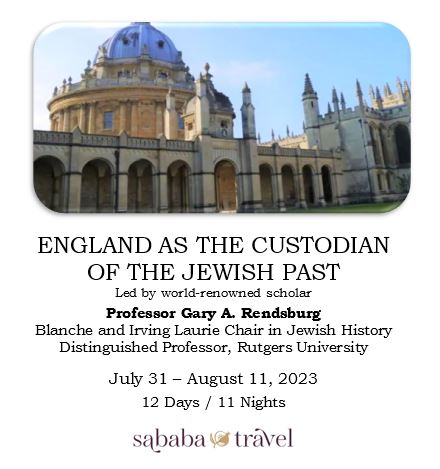 Related Sessions
Recordings of Past Sessions