30 January

We are deeply honoured to welcome Professor Johannes Lähnemann, Chair for Religious Education at the University of Erlangen-Nürnberg, the initiator and organizer of the Nuremberg Forums to mark the World Interfaith Harmony Week and to lead a session of the Peacebuilding in Interfaith Contexts Reading Group.
Here are the details of this fascinating session.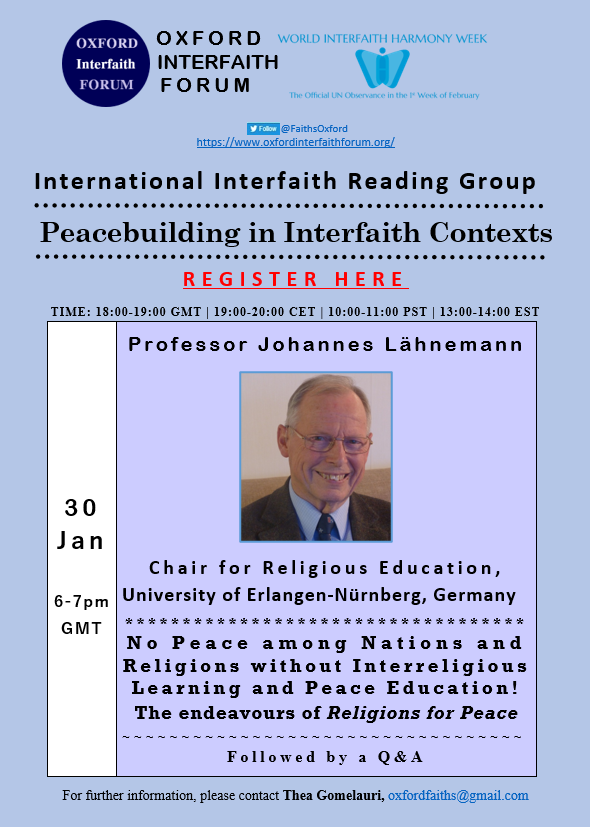 Topic: No Peace among Nations and Religions without Interreligious Learning and Peace Education! The endeavours of Religions for Peace (RfP)
Abstract: I would like to give an overview of the development of interreligious learning and peace education as it unfolded in the international Religions for Peace (RfP) movement. In the background are the theses of Hans Küng: No peace among the nations without peace among the religions! And: No peace among the religions without dialogue between the religions! (1988). They challenge pedagogical work in and with religions. To this end, the Peace Education Standing Commission was formed at Religions for Peace in the 1990s. The commission has endeavored to document interreligious peace education projects from different countries, different religious and different political contexts and to bring them into contact and exchange with one another. The focus was on interreligious education, education for non-violent conflict resolution and religions and environmental education. In the follow up of the 10th World Assembly of RfP 2019 in Lindau/Germany a new Standing Commission Interreligious Education has been established, according the RfP Strategic plan 2020-2025. I will shortly explain the commission's 1st publication: "Faithful Peace: Why the journey to resilience is multireligious" launched in October 2022. It contains contributions exploring the spiritual and theological background of different Religions for interfaith cooperation and education.
Speaker: Professor Dr theol. Johannes Lähnemann, Emeritus Professor and Chair for Religious Education at the University of Erlangen-Nürnberg, Germany.
Speaker's biography: Professor Dr theol. Johannes Lähnemann is Chairman Emeritus for the Peace Education Standing Commission (PESC) of the international movement Religions for Peace (RfP), Member of the Round Table of Religions in Germany, and Founder of the 'Nuremberg Forums'.
Professor Lähnemann's main research fields are 'World Religions in Education' and 'Religions and Peace Education'. He initiated triennial meetings of the Nuremberg Forums bringing together theologians, religious scholars, educators, politicians, and cultural workers for education and cultural encounters. Amongst multiple international interreligious initiatives, he founded the Interdisciplinary Center for Islamic Religious Education, one of the first German training centers for Islamic religious education teachers, and undertook the research project 'The Representation of Christianity in School Books in Islamic Countries'.
Professor Lähnemann has been awarded Cross of Merit of the Federal Republic of Germany (2008), Muhammad Nafi Chelebi Prize (2008), Höffmann Science Prize for Intercultural Competence from the University of Vechta (2013), and INTRA Project Prize for Complementarity of Religions (2014), for his outstanding contribution to Peace and Interreligious Relations worldwide.
Chair: Professor Reinhard Krauss, Executive Director for the Academy of Judaic, Christian, and Islamic Studies, and Associate Professor of Middle Eastern Studies at Bayan Islamic Graduate School, USA.
Time: 18:00-19:00 GMT| 19:00-20:00 CEST | 10:00-11:00 PST | 13:00-14:00 EST
Venue: Online
After registering, you will receive the Zoom email containing information about joining the meeting. If you do not see the zoom email in your inbox, please, check your spam folder.
If you would like to join the Peacebuilding in Interfaith Contexts Reading Group, please sign up here.
More information:
http://www.wcrp-nuernberg.de/pesc.html
Related Sessions