20 February, 2023
We are deeply honoured to welcome Revd Dr Dancho Azagra, Chaplain of Grandpont House, Oxford, to lead a session of the Philosophy in Interfaith Contexts Reading Group.
Here are the details of this fascinating session.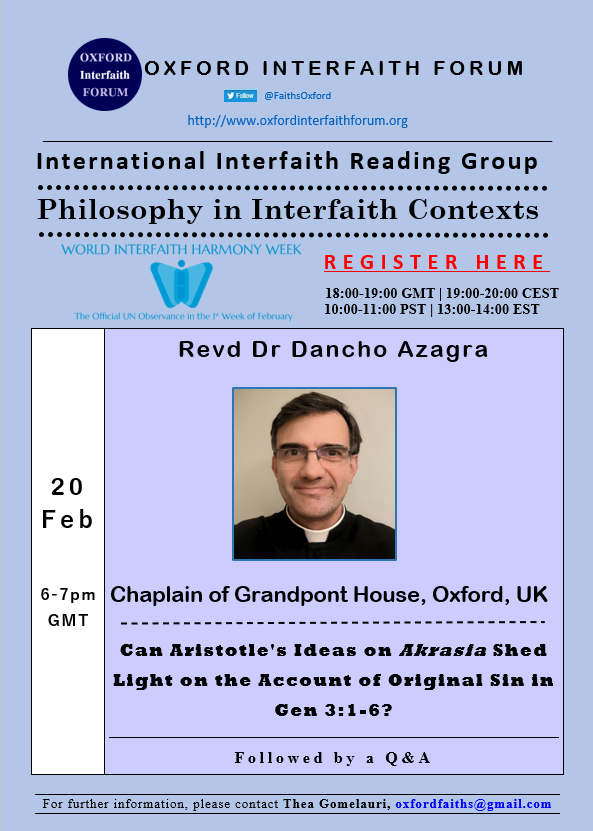 Topic: Can Aristotle's Ideas on Akrasia Shed Light on the Account of Original Sin in Gen 3:1-6?
Abstract: I will discuss several psychological implications of the account of original sin in Gen 3:1-6 applying some ideas employed by Aristotle in his description of akrasia. In particular, the concept of ēthos to study the original inner harmony of human nature, and that of prohairesis to discuss the possibility of sin and the nature of the temptation leading to original sin.
Speaker: Revd Dr Dancho Azagra, Chaplain of Grandpont House, Oxford, UK.
Speaker's biography: Revd Dr Dancho Azagra (PhD PhL MEng) was born in Madrid, Spain. He read Engineering Science at Exeter College at University of Oxford, and worked as a structural designer for building projects in various parts of the world. He also taught technology and structural design at the Architectural Association, Leicester School of Architecture and Oxford Brookes University. He studied Philosophy at the Pontifical University of the Holy Cross in Rome, specialising in Ethics and Anthropology. He completed his Philosophy Doctorate in 2016 with a thesis on Aristotle's ideas on akrasia. He was ordained as a Roman Catholic priest in 2014. He is currently the Chaplain of Grandpont House in Oxford, and teaches Philosophy in the Studium Generale of the Prelature of Opus Dei in Northwest Europe.
Chair: Professor Syed Atif Rizwan, Assistant Professor of Islamic and Interreligious Studies, and Director of the Catholic-Muslim Studies Program at Catholic Theological Union, USA, and Senior Fellow of the Oxford Interfaith Forum.
Date: 20 February, 2023
Time: 18:00-19:00 GMT | 19:00-20:00 CEST | 10:00-11:00 PST | 13:00-14:00 EST
Venue: online
After registering, you will receive a Zoom email containing information about joining the meeting. If you do not see the zoom email in your inbox, please, check your spam folder.
If you would like to join the Philosophy in Interfaith Contexts Reading Group, please sign up here.
Related Sessions
Recordings of Past Sessions