13 November, 2023
We are deeply honoured to host the Book Launch The Varieties of Atheism: Connecting Religion and its Critics, edited by Dr David Newheiser.
Here are the details of this fascinating event.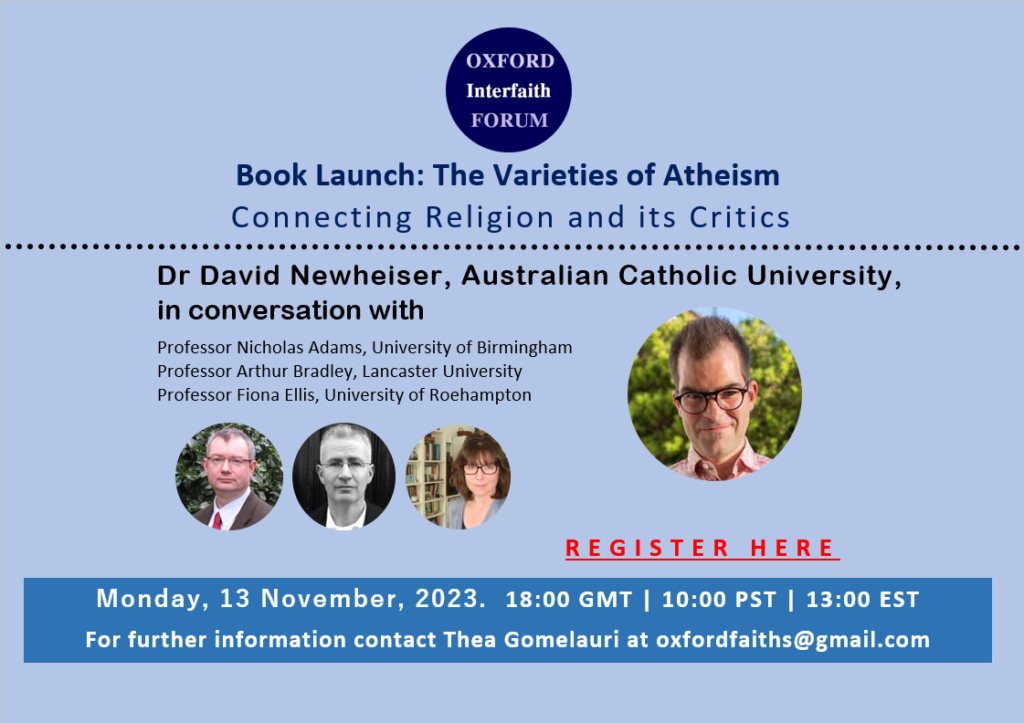 Abstract: This event launches The Varieties of Atheism, a new book edited by David Newheiser. The contributors contend that narrowly defining atheism as the belief that there is no god misunderstands religious and nonreligious persons altogether. They show that, just as religion exceeds doctrine, atheism also encompasses every dimension of human life: from imagination and feeling to community and ethics. By recovering lines of affinity and tension between particular atheists and particular religious traditions, this book paves the way for fruitful conversation between religious and non-religious people in our secular age. During the event, three scholars of philosophy, religion, and theology will offer brief responses from the book, followed by extended discussion with the editor and other contributors.
Speakers: Dr David Newheiser, Australian Catholic University, in conversation with
Professor Nicholas Adams, University of Birmingham.
Professor Arthur Bradley, Lancaster University.
Professor Fiona Ellis, University of Roehampton.
Date: 13 November, 2023.
Time: 18:00-19:00 GMT | 19:00-20:00 CEST | 10:00-11:00 PST | 13:00-14:00 EST
Venue: Online
Related Sessions
Recordings of Past Sessions