20 April, 2023
We are deeply honoured to welcome Professor Janna Gosselin, the Academic Dean and Professor of Christian Spirituality at the New Theological Seminary of the West, USA, to lead a session of the Psalms in Interfaith Contexts Reading Group.
Here are the details of this fascinating session.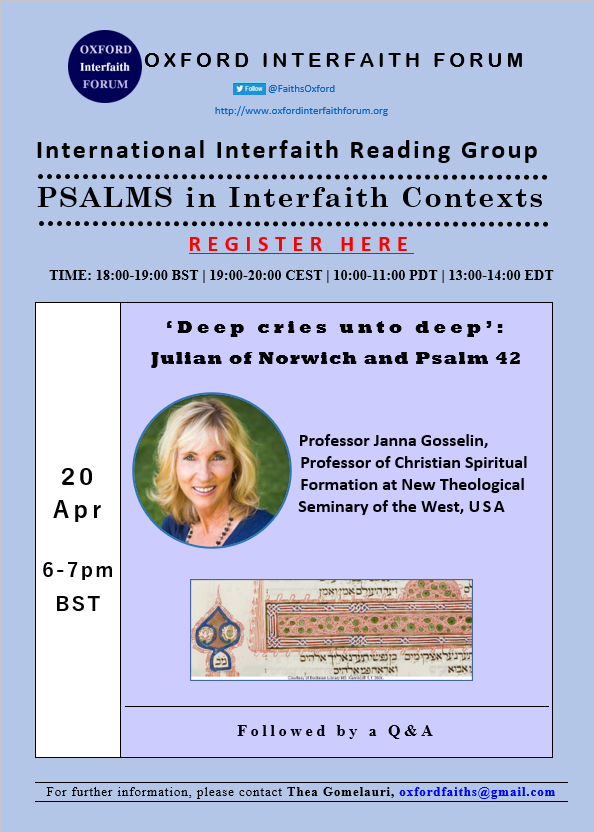 Topic: 'Deep cries unto deep': Julian of Norwich and Psalm 42
Abstract: Although the context of the Psalms and the texts of Julian of Norwich, a Medieval English Christian woman "mystic," are very different, there are remarkable connections between the two, which, when considered together, bring deeper understanding to both. Just as the suppliant in Psalm 42 finds himself metaphorically underwater beneath the breakers and waves (42:7), Julian of Norwich, too, finds herself deep underwater yet safe because of God's presence and love. Julian's underwater passage seemingly presents an interesting counterpoint to Psalm 42, where the Psalmist uses the underwater analogy to lament his disquieted state of mind. Yet, Julian nevertheless expresses frustration at her inability to remain connected to God immediately before and after this brief underwater passage. Despite Julian and the Psalmist's alternation between desperate longing for God and finding hope, both texts are more than mere journals of spiritual struggle. As John Goldingay notes in Psalms, Volume 2, Psalm 42's "careful composition in three stanzas… (lament, plea, and a looking to the future) suggests that this is… a prayer composition that we can imagine being used by an ordinary individual, by a leader, or by the congregation" (21). Similarly, Julian's account of her visions is a guidebook written not just for Julian's own benefit, but for her "even-Christians." Further, both passages are linked to Jonah 2:3-6, especially given the life-threatening situation of being underwater. In addition, both passages contemplate "seeing God's face," despite their different contexts and conclusions. Moreover, both passages vary in the objects they address, with the Psalm addressing both the Psalmist's "self" and God, while Julian addresses her reader, herself and, indirectly, God. In many ways, both passages function as a pep-talk for the speaker's self/soul. Finally, Psalm 42 can be read as the depth of our longing meeting the transcendent depth of God's love. Julian, too, beautifully expresses her deep longing, as she encounters a God whose love is beyond words and human understanding.
Speaker: Professor Janna Gosselin, the Academic Dean and Professor of Christian Spirituality at the New Theological Seminary of the West, and Vice-President of the Academy for Judaic, Christian, and Islamic Studies, USA.
Speaker's biography: After completing undergraduate studies and law school at the University of Southern California, Janna Gosselin maintained a successful career practicing law, but always felt the call to teach. In 2009, Janna began seminary and doctoral studies. In 2015, Janna completed a doctorate in English Literature at USC, working with faculty in the School of Religion and writing her dissertation on the apophatic tradition in the texts of Julian of Norwich. Janna also completed a Master of Arts in Theology in 2016 at Fuller Theological Seminary.
Responding to her call to teach, Janna served as adjunct faculty at Fuller Theological Seminary from 2016 to 2020. She is currently serving as Academic Dean and Professor of Christian Spirituality at the New Theological Seminary of the West (NTSW), where she has focused her teaching on spirituality, Christian mysticism, women's issues, suffering and social justice. As a member of the Coalition on Spirituality and Aging, she also teaches in and co-directs the NTSW Spirituality and Aging Certificate Course.
Janna speaks regularly at academic conferences, and has published a chapter entitled "Evangelical Spirituality" in Protestant Spiritual Traditions II together with Todd E. Johnson. She is currently an active board member of the Academy for Judaic, Christian and Islamic Studies and has been a featured speaker in Interfaith Trialogues sponsored by the Academy. She has guest lectured at USC, Fuller and Loyola Marymount University. Janna also has served in many teaching and leadership roles at the La Canada Presbyterian Church, including conducting several well-attended lecture series on the Christian mystics. She currently serves as Elder of Spiritual Formation, leads contemplative prayer sessions and completed training as a lay counselor. She also served as Group Leader for the Shift Network Global Mystics Certification Course and is a graduate of the Center for Action and Contemplation Living School with Richard Rohr.
Janna is currently writing a book on Julian of Norwich. Her research interests also include the Cathars, Beguine Spirituality, Apophatic Theology and other expressions of Medieval Mysticism.
Chair: Professor Reinhard Krauss, Executive Director for the Academy of Judaic, Christian, and Islamic Studies, and Associate Professor of Middle Eastern Studies at Bayan Islamic Graduate School, USA.
Date: 20 April, 2023
Time: 18:00-19:00 BST | 19:00-20:00 CEST | 10:00-11:00 PDT | 13:00-14:00 EDT
Venue: online
After registering, you will receive a Zoom email containing information about joining the meeting. If you do not see the zoom email in your inbox, please, check your spam folder.
If you would like to join the Psalms in Interfaith Contexts Reading Group, please sign up here.
Related Sessions
Recordings of Past Sessions