12 June, 2023
We are deeply honoured to welcome Professor Katherine Southwood, Senior Fellow of the Oxford Interfaith Forum, Associate Professor in Old Testament, Faculty of Theology and Religion, University of Oxford, and Tutorial Fellow in Theology and Religion at St John's College, Oxford, to lead a session of the Psalms in Interfaith Contexts Reading Group.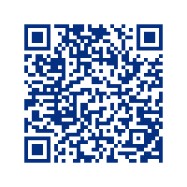 Here are the details of this fascinating session.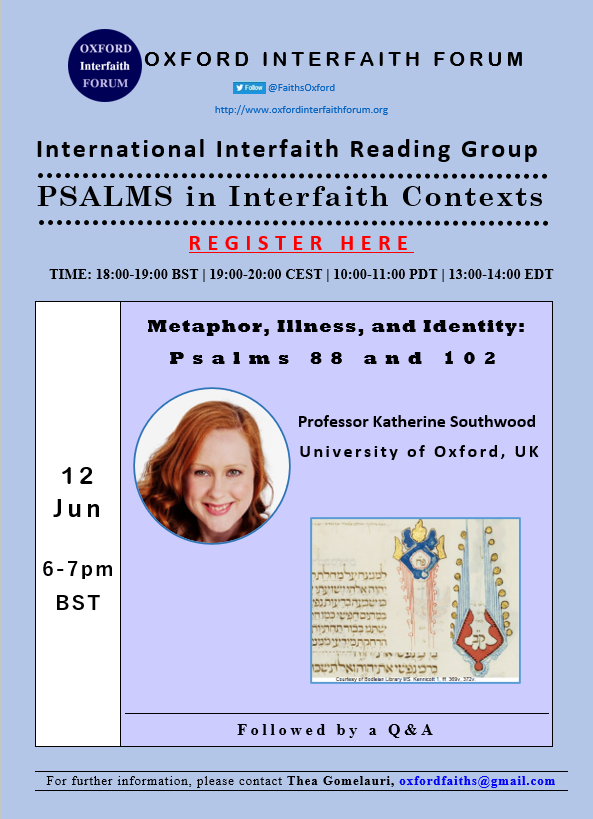 Topic: Metaphor, Illness, and Identity: Psalms 88 and 102
Abstract: Hebrew Bible is an important resource for adding insights into illness language and narratives by making a case for the use of medical humanities in biblical studies. Using an interdisciplinary approach, I utilise existing research concerned with illness experiences and identity as a heuristic tool for addressing the study of illness in the Hebrew Bible. However, as well as providing a useful heuristic lens, I argue that ancient texts can also bring a richness to present day perspectives and analysis of illness accounts within medical humanities. My presentation will demonstrate that ancient religious texts such as Psalms 88 and 102 share many of the themes, concerns, and motifs which resonate in modern day research concerning illness experiences.
Speaker: Professor Katherine Southwood, Senior Fellow of the Oxford Interfaith Forum, Tutorial Fellow at St John's College, and Associate Professor at the University of Oxford, UK.
Speaker's biography: Professor Katherine Southwood specialises in Hebrew Bible and is passionate about interdisciplinary engagement with material from antiquity. She was Kennicott Fellow at the Oriental Institute, Oxford. Professor Southwood co-edited the Journal of Theological Studies from 2012-2014. She serves on various editorial and review board for journals including JTS, JBL and HBT. From 2017-2021, she was Programme Unit Chair for the Social Sciences and the Interpretation of Hebrew Scripture. She has organised 10 themed panels at international conferences. Professor Southwood has published several monographs: Job's Body and the Dramatised Comedy of Moralising (2021); Marriage by Capture in the Book of Judges (2017); and Ethnicity and the Mixed Marriage Crisis in Ezra 9-10 (2012). She has also published many articles and chapters in edited volumes, and she enjoys the privilege of teaching students.
Chair: Reverend Professor William Whyte FRHistS, FSA, St John's College, University of Oxford, UK.
Date: 12 June, 2023
Time: 18:00-19:00 BST | 19:00-20:00 CEST | 10:00-11:00 PDT | 13:00-14:00 EDT
Venue: online
After registering, you will receive email from ZOOM containing information about joining the meeting. If you do not see a Zoom email in your inbox, please, check your spam folder.
If you would like to join the Psalms in Interfaith Contexts Reading Group, please sign up here.
Related Sessions
Recordings of Past Sessions