Welcome: Dr Erica Mongé-Greer, Clark Honors College, University of Oregon.
Inaugural Speaker: Revd Dr John Goldingay, the David Allan Hubbard Professor Emeritus of Old Testament in the School of Theology of Fuller Theological Seminary.
Chair: Revd Dr Bill Goodman, St Peter's College.
Date: Wednesday, 20 October, 2021
Time: 18:00-19:00 BST | 19:00-20:00 CEST | 20:00-21:00 IST | 10:00-11:00 PDT | 12:00-13:00 CST | 13:00-14:00 EST
Venue: Online
Readers:
· Benjamin Kamine, Jewish Theological Seminary, NY, USA
· Diane Obenchain, Fuller Theological Seminary, CA, USA
· Karenza Passmore, North East Religious Learning Resources Centre, UK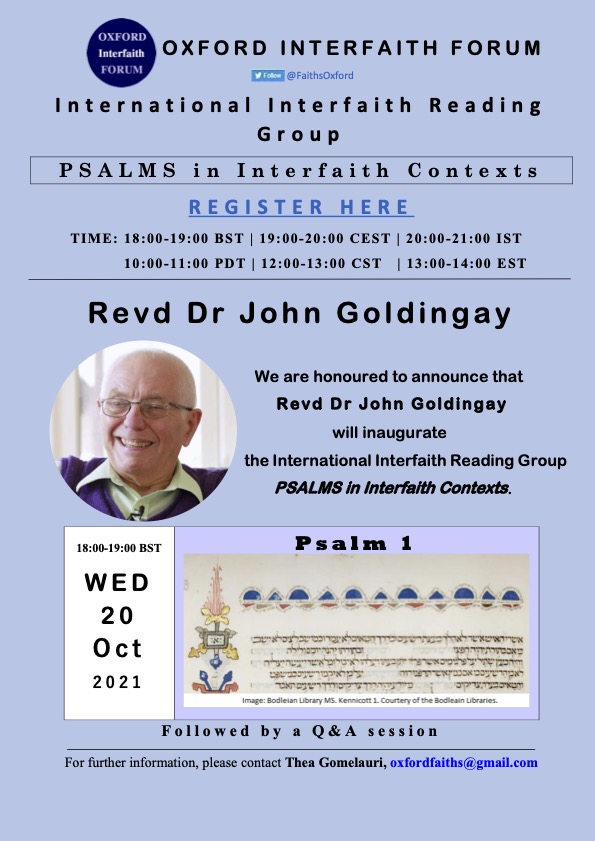 Watch a recording of this session here:
Resources
If you would like to join the PSALMS in Interfaith Contexts Reading Group, please sign up here.
Related Sessions