17 November
We are delighted to welcome Reverend Professor Melody Knowles, Vice President of Academic Affairs and Associate Professor of Old Testament, Virginia Theological Seminary, USA, to lead a session of the Psalms in Interfaith Contexts Reading Group.
Here are the details of this fascinating session.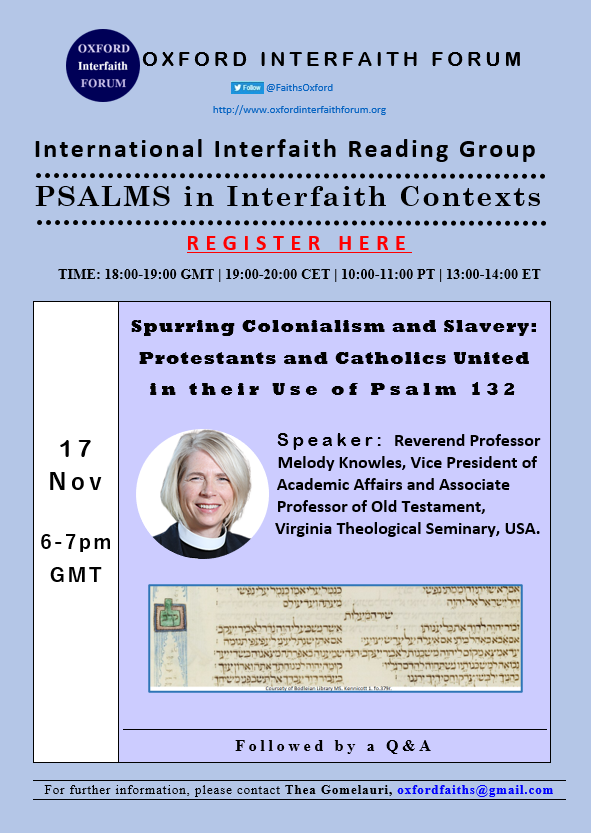 Topic: Spurring Colonialism and Slavery: Protestants and Catholics United in their Use of Psalm 132
Abstract: When we think about Catholic and Protestant interpretation of Scripture during the contentious period of the 16th-17thcenturies, we have come to expect difference and conflict. Yet the reception of Psalm 132 manifests a unified interpretive stance that promotes a unified aim: colonialism and enslavement. This presentation explores the ways in which European religious and political rivals took Psalm 132 as a goad and guide to conquer new lands and peoples.
Speaker: Reverend Professor Melody Knowles currently serves as Vice President of Academic Affairs and Associate Professor of Old Testament, Virginia Theological Seminary in Alexandria, Virginia, USA. She teaches courses on Psalms, the religion of Israel, Hebrew, and the Bible in film. Her published works include Centrality Practiced: Jerusalem in the Religious Practice of Yehud and the Diaspora in the Persian Period (SBL Press, 2006), and Contesting Texts: Jews and Christians in Conversation About the Bible (co-editor; Fortress Press, 2007). She was also the lead translator of the books of Ezra and Nehemiah for the Common English Bible and wrote the notes for 1-2 Chronicles in the study edition and the Psalms in the women's study bible edition of the CEB. She has been the past chair of the SBL sections dedicated to The Book of Psalms, and Chronicles-Ezra-Nehemiah. She is currently writing a commentary on Psalms 107-150 for the Illuminations Commentary Series (Eerdmans), and a monograph on the reception of Ps 132 in communities ranging from the second temple period to antebellum America.
Chair: Revd Dr Eric Sarwar, Fellow of the Oxford Interfaith Forum
Date: 17 November, 2022
Time: 18:00-19:00 GMT I 20:00-21:00 Israel Time | 10:00-11:00 PST | 13:00-14:00 EST
Venue: Online
After registering, you will receive email from ZOOM containing information about joining the meeting. Please check your spam folder if you do not see a Zoom email in your inbox.
Related Sessions