23 February, 2023
We are deeply honoured to welcome Professor Admiel Kosman, Professor of Talmud and Rabbinic Literature at the School of Jewish Theology, University of Potsdam, and Academic Director of Geiger College in Berlin, Germany, to lead a session of the Sacred Literature in Interfaith Contexts Reading Group.
Here are the details of this fascinating session.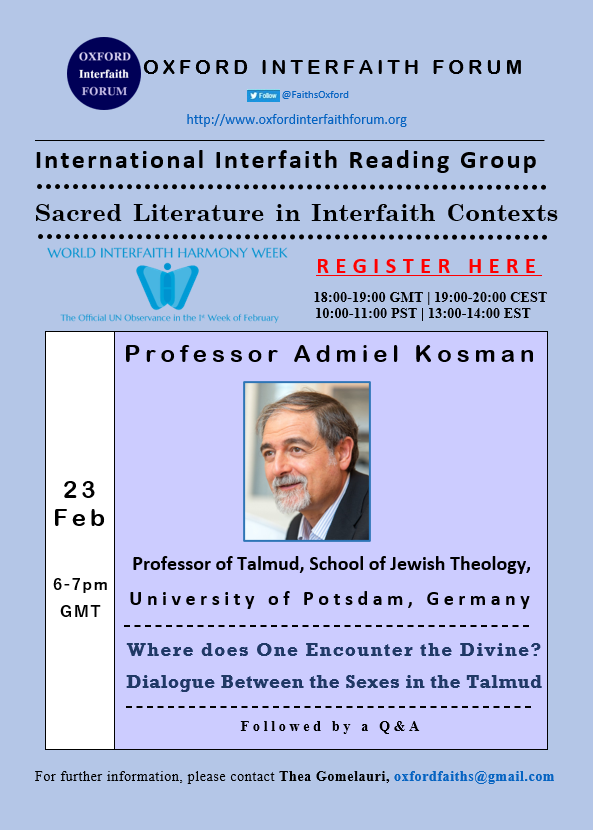 Topic: Where does One Encounter the Divine? Dialogue Between the Sexes in the Talmud
Abstract: In order to demonstrate the spirit of the Talmud, at least that which is represented by the creators of the Aggadah literature, I will focus on the literary works related to the emotional and sexual relations between the wife and her husband (BT Ketubut, 62b). Literary aspects of this masterpiece have already been considered by researchers in the past, but my analysis will serve as a general background through which we will try to penetrate to the heart of the work in order to feel the unambiguous non-dualistic theological message that is conveyed to the reader.
Speaker: Professor Admiel Kosman, School of Jewish Theology, University of Potsdam, Germany.
Speaker's biography: Professor Admiel Kosman, an Hebrew poet, is Professor of Talmud at the School of Jewish Studies at Potsdam University, and the Academic Director of the Abraham Geiger Reform Rabbinical Seminary in Berlin. He is the author of dozens of articles and several books in the field of Talmudic Literature, and Hebrew verse. Among Professor Kosman's works are: Gender and Dialogue in the Rabbinic Prism (de Gruyter, 2012), Masechet Shalom (in Hebrew, Tractate Peace: The Arab-Israeli Conflict in Light of Midrashic and Rabbinic Sources), Approaching You: Selected Poems (English; trans. Lisa Katz: Zephyr Press, 2011), Aus dem Zwischen des Hohelieds: ausgewählte Gedichte (trans. Edith Lutz, Pop verlag, Ludwigsburg 2019), and his second collection of poems So Many Things Are Yours (trans. Lisa Katz) is now in print. In 2000, he was invited by Nobel Prize–winning Polish poets Czeslaw Milosz and Wislawa Szymborska to participate in an interfaith festival in Cracow, Poetry – between Prayer and Song. Professor Kosman has been awarded the Israel National Prizes for Poetry including the Bernstein Prize, the Prime Minister's Prize, and the Brenner Prize awarded by the Hebrew Writers Association in Israel.
Chair: Rabbi Dr Norman Solomon, Oxford Centre for Hebrew and Jewish Studies, University of Oxford, UK.
Date: 23 February, 2023
Time: 18:00-19:00 GMT| 19:00-20:00 CEST | 10:00-11:00 PST | 13:00-14:00 EST
Venue: Online
After registering, you will receive the Zoom email containing information about joining the meeting. If you do not see the zoom email in your inbox, please, check your spam folder.
If you would like to join the Sacred Literature in Interfaith Contexts Reading Group, please sign up here.
Related Sessions
Recordings of Past Sessions